About Jagannatha culture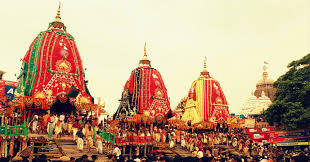 About Rathayatra
Ratha Yatra,also referred to as the Car festival or Chariot festival is any public procession in a chariot.
The term particularly refers to the annual Rathayatra in Odisha and Jharkhand, particularly the Odia festival that involve a public procession with a chariot with deities Jagannath (Vishnu avatar), Balabhadra (his brother), Subhadra (his sister) and Sudarshana Chakra (his weapon) on a ratha, a wooden deula-shaped chariot.
It attracts over a million Hindu pilgrims who join the procession each year.
Rathayatra processions have been historically common in Vishnu-related (Jagannath, Rama, Krishna) traditions in Hinduism across India.
According to Knut Jacobsen, a Rathayatra has religious origins and meaning, but the events have a major community heritage, social sharing and cultural significance to the organizers and participants.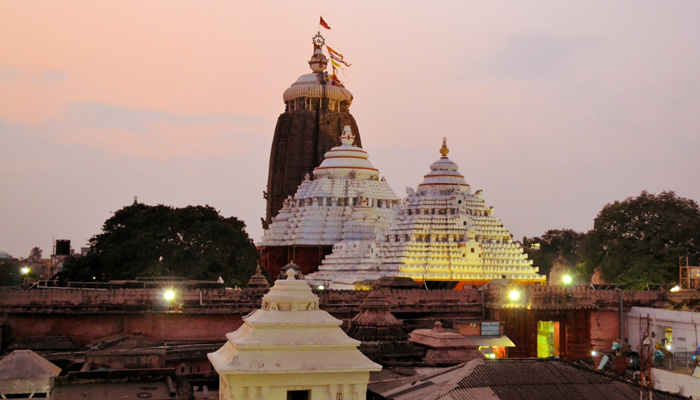 About Jagannath temple
The Jagannath Temple of Puri is an important Hindu temple dedicated to Lord Jagannath, a form of Vishnu, located on the eastern coast of India, at Puri in the state of Odisha.
The temple is an important pilgrimage destination and one of the four great 'Char Dham' pilgrimage sites, found at India's four cardinal points.
The construction of the Jagannath temple was initiated by King Chodagangadeva.
It was completed by his grandson Anangabhimadeva in the late 12th century.
The temple is famous for its annual Rath Yatra, or chariot festival, in which the three principle deities are pulled on huge and elaborately decorated temple cars.
Unlike the stone and metal icons found in most Hindu temples, the image of Jagannath is made of wood and is ceremoniously replaced every twelve or nineteen years by an exact replica.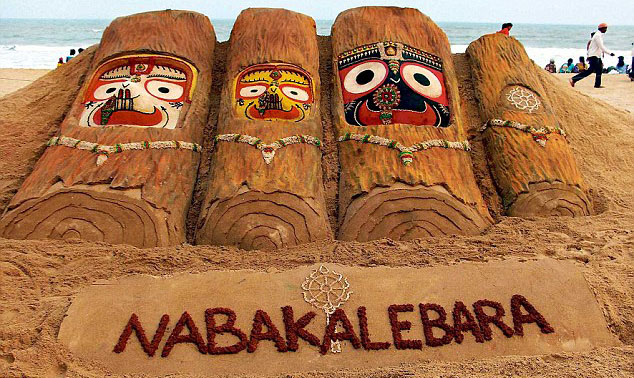 About Nabakalebara
Nabakalebara is symbolic recreation of wooden forms of the four deities at Jagannath Temple, Puri.
In Jagannath cult this is a periodical renewal of the wooden forms of Jagannath, Balabhadra, Subhadra and Sudarshana.
The occasion occurs every 8th or 12th or 19th year of the previous Nabakalebara.